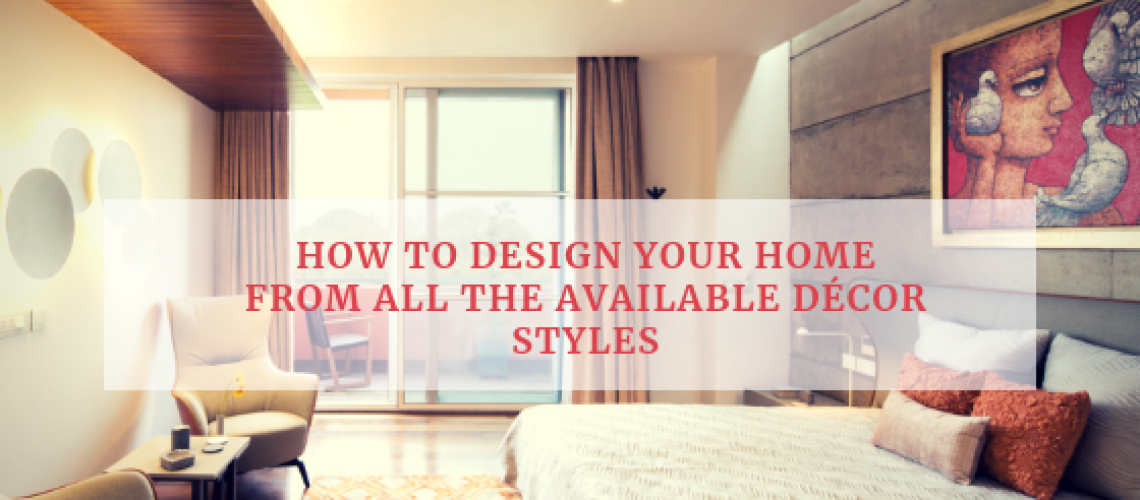 How to Design Your Home From All The Available Décor Styles
You are out of décor ideas and need help? Designing a home is just not your cup of tea. And you are equally clueless on what kind of décor suits your home.
Stop. Breathe. Now think for a minute.
Is Home décor mere buying furniture and stuffing these  in your house?
It may be a neat combo of joining best handmade wood collection furniture with your imaginative ideas and doing something in between. Décor styles are many and you can mix and match in any way you want.
Depending on where you live and what  works out the best for you, here is our take. Come, let's design your house your way-
For Cities
Minimalism, Modern, Contemporary
City life is busy life and you are literally on the run all the time. But your décor need not be run-of-the-mill kinda stuff. It doesn't have to be wood and metal stuffed in every corner of the house. Instead, opt for-
1. Minimalism: Think of functionality, simplicity and less décor management. Enter minimalism. Minimalism is a saviour if you are not much of a furniture fan. Here each piece serves its own purpose.
In Bedroom: You can go for handmade wooden bed or utilise a metal one depending on your taste. Have same light shades (not more than three) of a single colour in the room and highlight with a wall décor, a vintage piece or anything offbeat.
 In Bathroom: Use a creative mirror, go for some shine, add neutral palette tiles, or go for indoor plants. This will definitely make things easier. The takeaway is less clutter, more storage and a light pattern of colours.
 In the Kitchen: You can add one drama element here like honeycomb shaped cupboards as an example. Rest maintain the status quo of minimalism.
 In the Living Room: You may add a vintage element in the form of a chair or a couch but keep it light and do not make it cluttery at any cost.
2.  Modern: Divided into urban modern and mid century modern you can choose your lot. Modern décor highlights the patterns, sharp lines, warm colours, and can exhibit a retro look while remaining chic at the same time.
i) Urban Modern: This form of home décor is gorgeous not because it focuses on less but because it adds that required warmth.
 In Bedroom: Go for a feature wall with contrasting colours. You can choose the bedding with sharp and defined features. Colour pattern remains neutral yet do not make you feel empty.
 In Bathroom: Add a statement piece here. It could be anything- your bathtub, your toilet accessories, the shower area or the basin. Whatever you do, keep the flow of matching colours with subtlety.
In Kitchen: Keep in sync the geometry, graphic elements and display your artistic expression. Use wood without a doubt but give equal importance to neatly designed aluminium shelves (for example). Mix darker and light shades for the flooring (if wooden). Always remember that the use of stone (like granite), or mortex is always a green signal for kitchen-top urban modern designing.
In the Living Room: Choose sleek designs, less cluttery furniture and a warmth element in the form of an area rug to go with. Defined furniture with subtle colours is what makes it worth it.
 Must Read: How to Pick the Right furniture for your Home? 
ii) Mid Century Modern: Inspired by the 50s and 60s, this style of décor this makes designing fun and appealing at the same time. It is often used interchangeably with Contemporary décor which is not the case in reality.
 In Bedroom: Give your bed a vintage vibe. Matching bed with auxiliary furniture pieces is what would highlight the aesthetics properly. A bold accent wall with a chaise lounge chair makes an elegant impression without trying too hard.
In Living Room: Eames Lounge chair and ottoman, or Danish Chairs are what you can opt for. Also, bold wallpapers, low sitting arrangement, textured fabrics with earthy colours would add just right.
 In Kitchen: Shades of aqua, golden yellow, pops of red, olive green, and pewter gray are the colours you can use. Vintage coloured appliances and glass vases or lamps would serve the purpose beautifully.
In Bathroom: Medium tone flat panel cabinets with saturated or neutral colour code works perfectly in harmony. Use wood as your star of the show in the bathroom. Using a vintage mirror, chandelier, or teak accent walls making everything look cohesive. Opt for any of these options and look for spaces of improvement.
3. Contemporary: Wooden manufacturers in India get a lot of contemporary stuff done according to the demand. Though often mistaken to be modern (and used interchangeably), this décor focus on- decorative quotient, elemental cohesiveness of the architecture, bold scale attention, and a concise black-white-neutral colour pattern. Warm space with sophistication minus the rigidity of modern décor makes contemporary a present-day hit.
 In Bedroom: Go for a bold move with one of the walls painted black. Just one caution, it should not be a 'black-hole'. Just the right amount of blur with wooden pieces with metal base legs of the bed would be enough.
In Living Room: This one can be experimental and involves geometrical patterns. Have curvy chandeliers or furniture with exposed legs. If choosing pastels, go for neutral shades. Solid hues, geometric silhouettes with natural textiles (jute, cotton, silk) for upholstery serves the purpose beautifully.
In Kitchen: Choose anything trending for the current year. It could be black cabinets, neutral kitchen with an accented highlight of orange, or make it citrus based. It's all upto you. Contemporary never goes out of fashion and keeps updating itself.
In Bathroom: Bathroom décor is not restricted to give a particular look or feel. You may have a mix of white and black and have bold and basic structural things to go with. Wooden flooring can also be an option. The condition is- You should know how to take care of it. Always!
 Decorating your house is not a big task if you unwind much of your pre-conceived notions of home décor.


Also, make sure that your house gives a reflection of what you are, what you want to be perceived and how it can give you that 'an inviting feeling' all the time. Furniture manufacturers in Delhi NCR are sure to help you out do this feat. All you need is better contacts and a little knowledge on how you want your house to be designed.
Want to add some innovative ideas to our list? Or have something 'décor-ative' enough to say. Feel free to share your words in the comment section