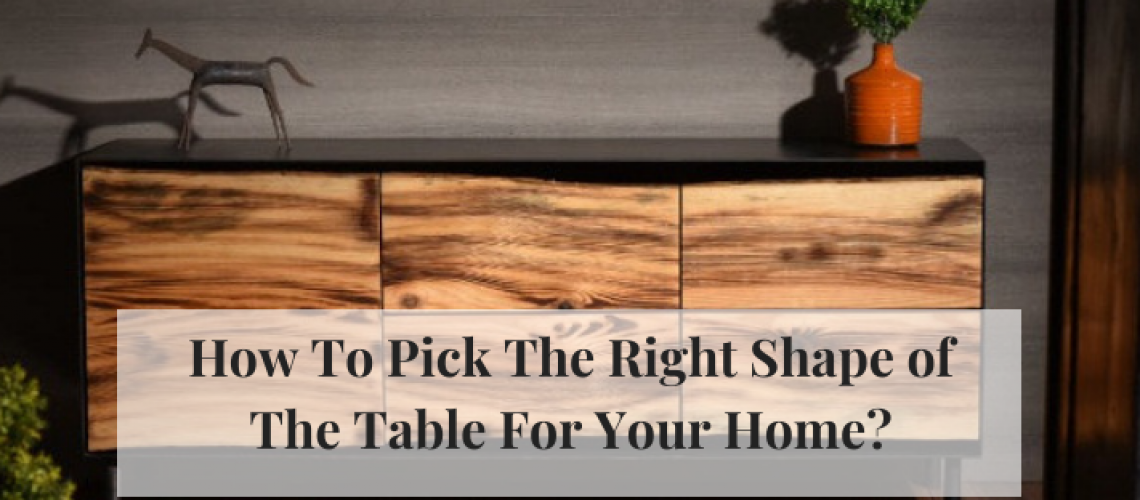 How To Pick The Right Shape of The Table For Your Home?
If people are a core of a home, then the furniture is the character that highlights their essence. In fact, a house becomes liveable, welcoming and comprehensive, only after the furniture is moved into it.  
Hence, when decorating a residence, it is essential to take an informed and smart decision when selecting the fittings for various rooms. With options galore in both handmade wood furniture and factory-made, two things should be analysed carefully. First, the chattels should accentuate the interiors, and second, it should give a finished look to that particular room. Thus, it is important to consider everything from colours, patterns, material, size and shape, before the final purchase. 
To help you make this choice, today, we bring you a few considerations while picking the right shape of the various tables for your home-
For most houses, the focal point is usually the dining area where family and friends often get together to have a delectable meal while sharing some laughs. It is, hence, essential to select the right table, which is a comfortable fit and is of the right shape for the designated space.  
What should be the shape?
The dining table can be custom-made or is available in all the primary four shapes-round, oval, square, and rectangle. Of these, the most common and popular is rectangular, followed by round. So, when deciding the frame that best fits your room, check the layout of the place before you look at the various furniture designs in India. 
Even though a rectangular table is considered a traditional style, it blends equally well in a modern setting. Usually, seen in long, and even narrow rooms it is considered apt for seating more than four people. Additionally, because of its width, which should ideally be between 36 inches to 42 inches, it gives ample space to display the dishes as well as for people to sit and enjoy a hearty meal comfortably. Moreover, its linear form also allows for sufficient space to walk around the table, thereby making it easy to lay the table.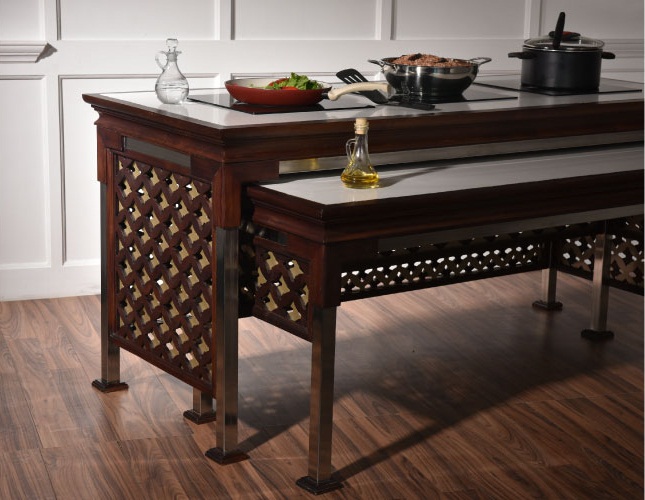 Coming to the round table, it works well for smaller and square-shaped rooms. They are appropriate for a family or a group of four people. It is also regarded as the best frame for small gatherings since everyone can see and converse with each other. This shape gives a cosier and more intimate feel than the rectangular table. Also, with no head of the table, these provide a more casual feel to the room.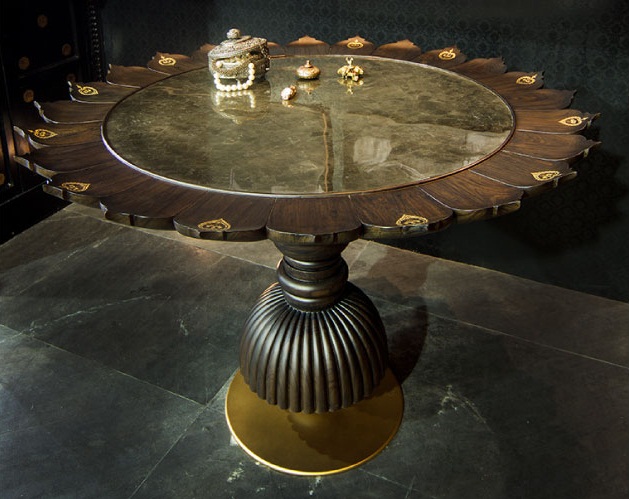 The square table like the round is suitable if you don't have a large group. This shape looks the best in a square-shaped room.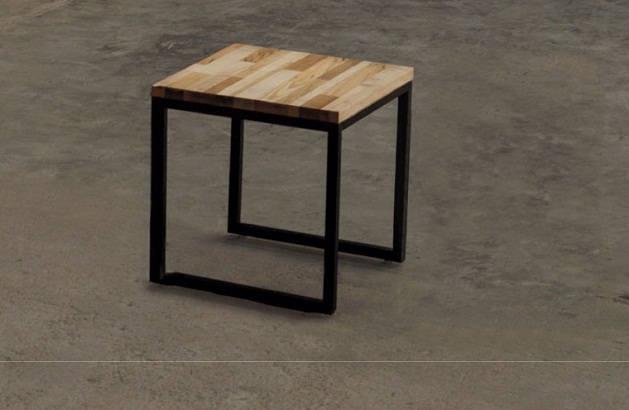 Oval-shaped dining tables alternatively are similar to a rectangular one. However, these have a smaller surface area because of the rounded corners. Visually, too, it seems to occupy less space and are deemed a wise option for a narrower sized room. 
Thus, a high-quality dining table can last for years, which therefore makes them one of the most thought after pieces of furniture. 
Centre tables bring depth to a room and hence, should be aesthetically designed, be the right size and sturdy enough to be decorated with big showpieces. When buying this critical piece of furniture, take the clue from the shape of your sofa. To explain this further, here are a few points of considerations-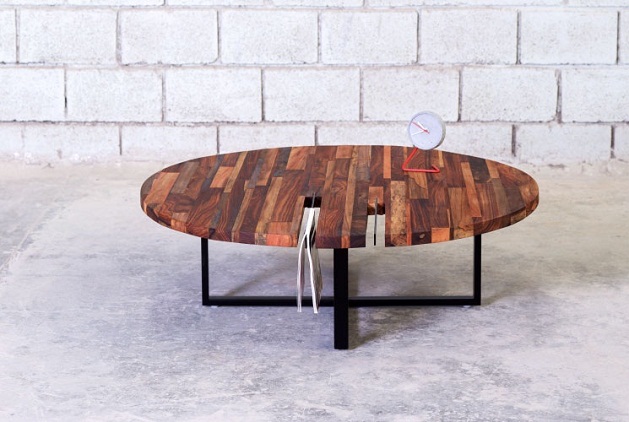 If your living room has a rectangular sofa or an L-shaped lounge, then place the same form i.e. a rectangular table at the centre. The rectangular style makes it easy to place items such as food within reach of even those people who are sitting at the far end of the room.
In case of a square sitting and smaller length sofas, go for a similar or a round table. 
If you wish to break the monotony of the setup, then it is best to opt for an oval or circular You can also place pouffes and ottomans around it to make more seating area. 
Overall, the centre table should at least be 2/3rd the size of the largest sofa, and there should be a minimum distance of 18 inches between the nearest furniture and the centre table. This measurement ensures there is enough space to move around. Also, don't forget to buy the table that blends well with the rest of the furniture.   
A coffee table is usually placed near a sofa or a chair for both decorative and usage purpose. It is suitable for both formal or informal occasions and mainly used to rest the cutlery or keep magazines, or even a pair of feet. Thus, this table should be firm enough to withstand the weight of different objects. Available in all shapes from a square, rectangle, round, or oval, the ideal form depends on the area where it needs to be placed. Here are some indicators-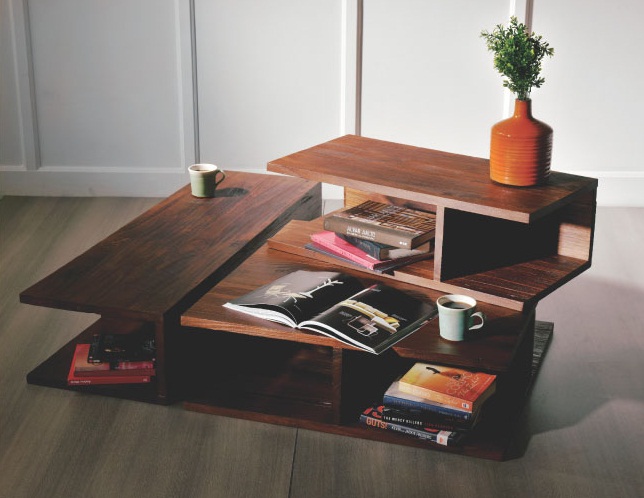 For a smaller sitting area with a two-seater sofa and a lounge chair, a rectangular or oval coffee table is likely the best bet.
A round coffee table is apt for a home with small children. As it has no sharp edges, it will make it safer for kids to move around. This shape also gives the room a more informal feel.
Square shaped tables are suitable for a large seating, i.e. a four-seater sofa and love seat.
Furthermore, this type of table should principally be of the same height as the cushions on your sofa or a couple of inches lower. Traditionally, the coffee table is placed 12 to 18 inches away from your sofa, and to calculate the actual width, measure the length between the couch and the TV stand and deduct 42 inches. This calculation ensures the coffee table is within reach of everyone, i.e. whether you're on the sofa or an accompanying lounge chair.
Now that many of you know the importance of shape for the various tables in the house flaunt this knowledge and help others make the right purchase decision. Also, don't forget to share your thoughts in the comments below.