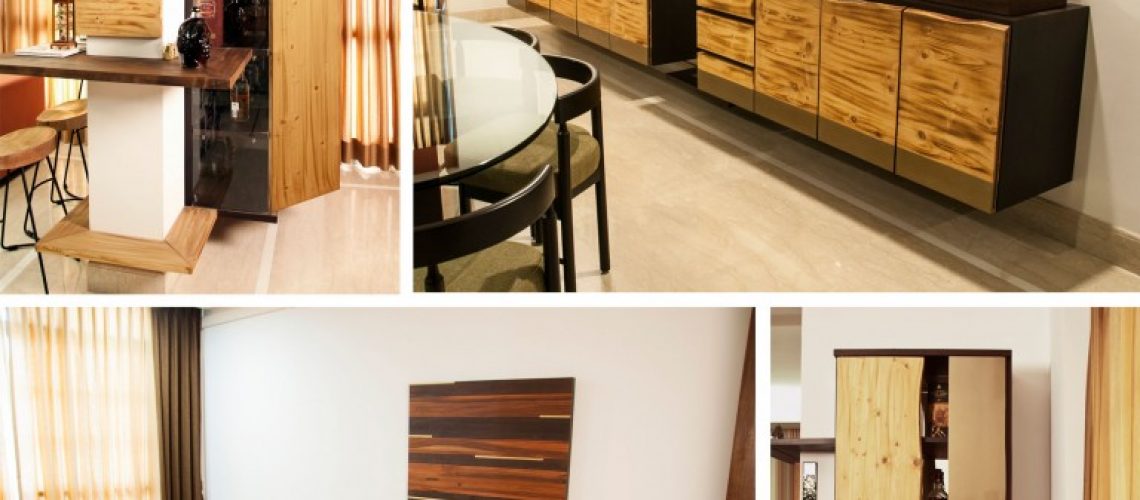 Aarti specializes in creating a totally personal look for each client. Her passion for creating a distinctive look that is classy and elegant, expresses itself in the Charmwood Village project.
The theme was simple, the couple was very happy with the material, wood and they wanted their home to reflect the same. Thus, the interiors carry a lot of wood to maintain a warm, rich feel. Aarti strongly believes the environment has to work for the client and they have to feel at ease.
The bed was made with different types and shades of wood. The thought behind using light and dark shades of the same color was to invoke a calm and relaxing atmosphere in the bedroom. The brass in the headboard added the right amount of drama and worked wonders in the overall scheme.
"Home is a celebration of self and must tell stories as unique and special as one self"….though, Mr Gupta left all major decisions to his wife, he was very clear as to what he wanted for his bar. As a result, the bar is an absolute reflection of his idea.
Since the cabinet was being placed in the same area as the bar, we used a lighter shade of wood in order to avoid making the furniture look bulky. The burnt finish in the pine wood cabinet and bar added to the visual splendor.