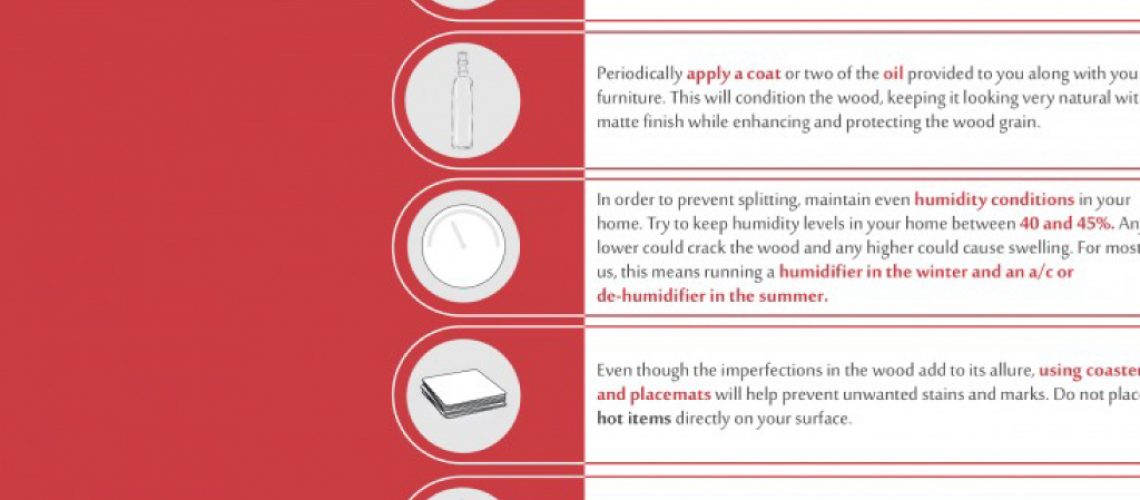 Clean And Care Instructions – Knock on Wood
1 . Simply use a dry, soft, lint-free cloth for routine cleaning. Do not use any solvent or harsh cleaner.
2. Periodically apply a coat or two of the oil provided to you along with your furniture. This will condition the wood, keeping it looking very natural with a matte finish while enhancing and protecting the wood grain.
3. Even though the imperfections in the wood add to its allure, using coasters and place mats will help prevent unwanted stains and marks. Do not place hot items directly on your surface.
4. Prevent spilling of bulk liquid on table. Cleanup any spill immediately.
5. In order to prevent splitting, maintain even humidity conditions in your home. Try to keep humidity levels in your home between 40 and 45%. Any lower could crack the wood and any higher could cause swelling. For most of us, this means running a humidifier in the winter and an a/c or de-humidifier in the summer.
6. Do not place in direct sunlight. This will help prevent against fading.